Ecologist says Australia has a 'dreadful' track record in planning, monitoring and responding to threats to endangered species
Oliver Milman. theguardian.com.
Tuesday 26 November 2013 15.02 AEST
http://www.theguardian.com/environment/2013/nov/26/australia-under-fire-for-failing-to-protect-threatened-animals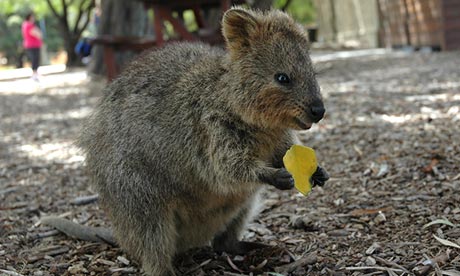 Australia is failing to protect its endangered species due a "dreadful" track record in planning, monitoring and responding to threats, a group of leading conservationists has warned.
A paper published in the journal Frontiers in Ecology and the Environment states that monitoring is a "critical part" of effective species conservation, but that "many species are being monitored until they go extinct".
"Management intervention should be triggered when it becomes apparent that a monitored species is in decline," the paper said. "Most conservation monitoring programs lack pre-planned interventions and a clear statement about how the information derived from monitoring will help to conserve the species."
Professor David Lindenmayer, an ecologist at the Australian National University and one of the paper's authors, told Guardian Australia that the conservation situation in Australia was "dreadful" when compared to other countries.
"In the vast majority of cases, we don't even do the monitoring," he said. "We roll out billion dollar environmental programs and don't even measure whether they are successful or not.
"Both sides of politics have been completely derelict in this area. There isn't enough monitoring as it's the last thing to get funding and the first thing to get cut. When it is done, it's done unbelievably badly and there are no trigger points to intervene."
According to Lindenmayer's study, of 122 recovery plans for 191 Australian species, only five made reference to monitoring programs with defined interventions to prevent an animal becoming extinct.
The failure to properly deploy these trigger points – for when population or habitat shrinks, or if disease is introduced – has led to the extinction of the Christmas Island bat, as well as the virtual wiping out of the quokka, greater glider and several species of Queensland-dwelling frogs.
Elsewhere in the world, a failure of monitoring and intervention has placed severe threats upon the Sumatran rhino and Iberian lynx, as well as the extinction of the west African black rhino.
"We need to take action and do it early, otherwise these animals end up in captive breeding programs which are often a colossal waste of money," said Lindenmayer.
"In the case of the Leadbeater's possum in Victoria, there are maybe 2,000 left and the trajectory has been distinctly downwards for some time. Around five years ago was the time to log the forests less as it was a severe threat that was robustly shown with science. But nothing has been done.
"People think monitoring is expensive, but it only need be 5% to 10% of the conservation budget. We don't have to monitor everything – we can do it smartly, in a well-targeted way."
Australia has one of the worst extinction rates for mammals in the industrialised world, with the Department of Environment currently listing 188 species as endangered or critically endangered.
The Coalition government has said it wants a more "business-like" approach to species conservation, pledging to introduce a threatened species commissioner to stem the flow of losses.
A spokesman for Greg Hunt, the environment minister, told Guardian Australia there was a "lack of focus on outcomes around threatened species" under the previous Labor government.
"It has been frustrating to see numerous plans on threatened species that have sat on the shelf to gather dust," he said.
"The ultimate goal of implementing a threatened species commissioner is to reduce the number of species on the threatened species list by targeting areas where we can make a difference."
Lindenmayer said it was "too early to judge" whether the Coalition would improve matters, but added that the threatened species commissioner role needed clout for it to succeed.
"If you're the threatened species commissioner, you're going to have to tell the Victorian government to log the central highlands far less and not put cattle in alpine grazing areas," he said. "You'll also have to tell the Tasmanian government to control sugar gliders, because they are chewing their way through swift parrots.
"You will need to be able to say these things as that's what the science tells us. The role will need to be endowed with the balls to take on whatever state and territory and ensure that changes are made."